Make It Koigu
Everybody has a story with Koigu and we want to hear yours! 2018 is the year of recognizing progress and making! To do that Koigu wants to see your projects and hear about your exciting experience with Koigu in the last 26 years. In the next 12 months we want you to send us photos of your garments knit out of Koigu, with a little information on them and your Koigu story. Each month Koigu employees will pick one maker to receive a special Koigu package, filled with lots of goodies! Share your projects that are knitted, woven, crocheted and more! Remember to send photo's each month as your Koigu projects progress.
What we want you to send us!
A photo of your Koigu project

Name of project

The type of yarn you used + colour numbers if you know them!

Your story and experience with Koigu
EMAIL your info to hello@koigu.com
All photos submitted will be posted here! So check back here for photos, inspiration and admiration.
I am really very happy of the project I knitted with your wondurful wool and great colors ! I discovered your yarn at downtown yarn shop in New York City , took them back to Paris (France) knit this perfect pattern Eole for Jeanne my 1st grand daughter and ... send her the sweater in Geneva !!!
So your yarn travelled a lot
Angela
Attached are some photos of the beautiful shawl I made using many Koigu KPPPM colourways. I'm not sure if the photos do your yarn the justice it deserves. I'm not too sure which ones they are specifically as I kept on returning to my local yarn shop to buy more and more. I just started my own handdyed yarn business here in Edmonton and find your vibrant colourways inspiring
This is a modular sweater I put together, just adding on till it was the right size.
Butterfly Stitch Prayer Shawl
I have been knitting since I was 8, and taught myself to crochet when I was 12.
It was truly a pleasure to work with the Koigu yarn on these projects. It was an adventure waiting to be discovered as each project progressed. The variety of colours in each skein in combination with the pattern stitches were a treat for the eye. The KPM and KPPPM were a joy to work with. Blocking the projects were not as daunting as I had anticipated.
This is a shawl I made from your yarns I bought last year. They are so soft and warm and I love the sparkle in this too!
Nancy
Here is the "Larkspurs" shawlette I knit with P768 (lace section) and P850 (crescent section). The colours remind me of the larkspurs that reseed themselves in our garden every year. The stitch pattern is a variation of the "Larkspurs" pattern from Knittingfool.com, with a plain stitch removed from between the motifs to make the lace more open.
Georgena
3 projects finished with KOIGU yarn. Afghan made with 'solid pink fade pack, shawl made with kirsti, and child's hat made with kppm yarn with crystal beads. All lovely yarn!!

Jan
As best as I can remember, I used about twelve skeins of KPPPM for warp. The Blackberry and Blueberry shawls are woven on the "Berry" warp—12 epi, 300 ends total, about 6 yards of warp), and close to another twelve for that weft. Each shawls finished at 25" x 84".
Sometimes I use scraps from previous work and that was true here. I can only say that it is all Koigu. Below is the "Peacock" warp on the loom. Then another warp with all the yarn wound off, including a single skein of Canadian handspun, and the photo at bottom of the three shorter shawls woven on the same warp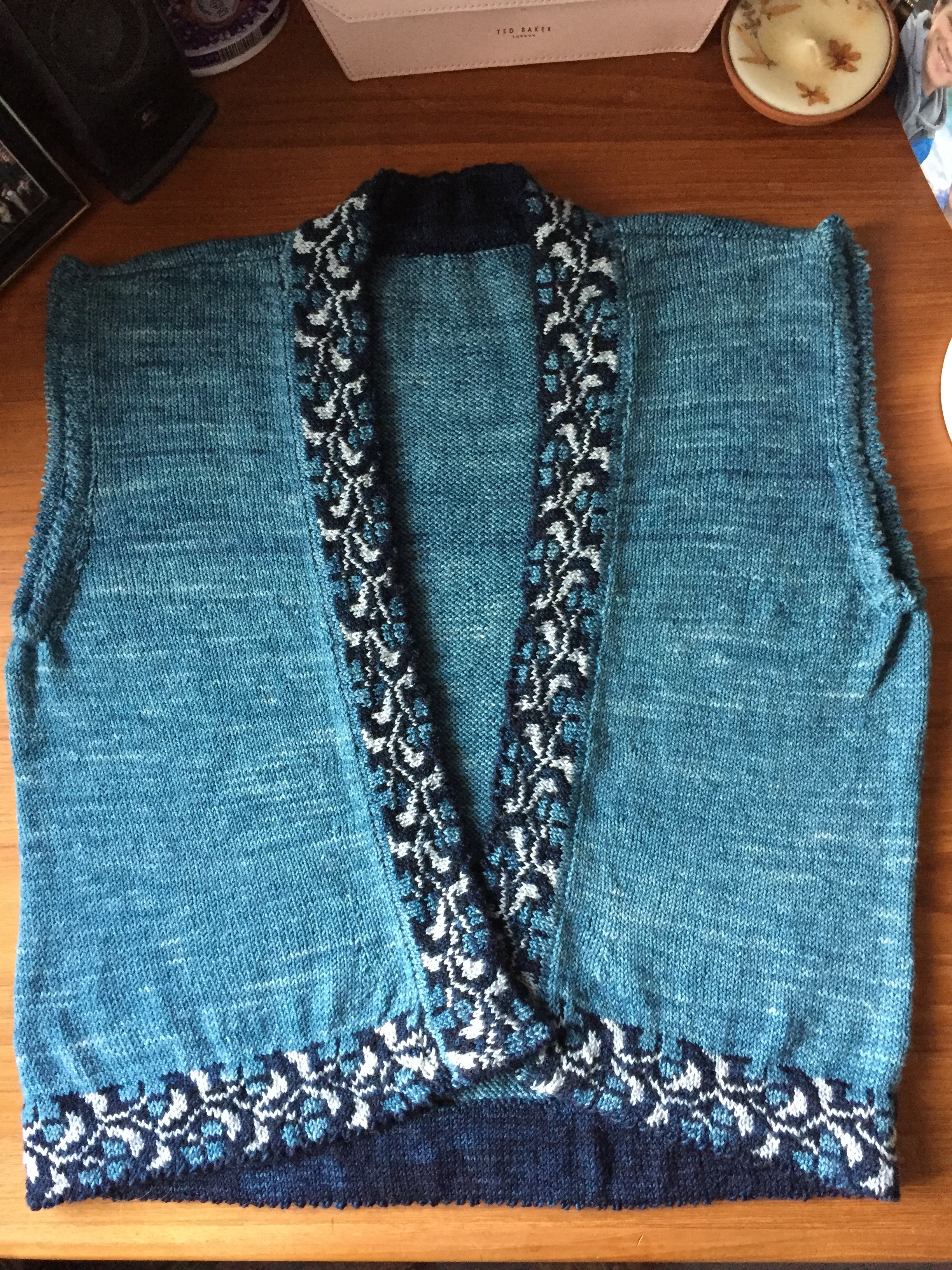 Norweign vest entitled Ambrosia Vest using KPPPM for upcoming knitting cruise along the coast of Norway. Lots of steeking and finishing of bands with picot edging.
We picked up all of the yarn at the August barn sale. My dad (Ed Stefan) wove me this lovely king size coverlet from his own design . Using 43 skeins of KPM yarn and 1 spool of the off white on his Dorothy loom. He also took the time to twizzle all of the ends
He enjoys working with the yarn for weaving and for knitting.
Nancy
"Here is my Colour-Blocked Waves wrap--a simple rectangle that can be worn as a stole or a large scarf.
From one end to the other, the KPPPM colours I used were P431, P615, P801, P828, and P930, with #5511 for the garter stitch bands between the colour blocks. I made slight modifications to the classic "Crest of the Wave" stitch pattern for this design so that the colour blocks would be as long as they are wide, creating glorious multi-coloured squares between the plain garter stitch bands."
"my own design, called the Rakuten Poncho. It has shoulder pads made from Koigu yarn! I used a 4.0 mm Crochet Hook. It uses 5 skeins of Koigu KPPPM Color 143"
Hats using KPPPM and Canadian Mohair
Francoise
photos of the Anthro by Hanna Maciejewska. The pattern details are exquisite.
September
I had a wonderful time at the Koigu Tent Sale in August, dashing back and forth between the buildings in the rain. So many colours, so many choices, so many ideas, so many decisions!

I purchased this yarn to make a Baby Vertebrae for a grandchild expected this fall. My daughter and her family are currently living in Alberta, but return home every summer for a few weeks to spend time at the beach where she grew up.
The colours in this yarn suggest the colours of the water and the waves, so this is Beach Baby Vertebrae.
Here is my Annalise Shawl made with 5 colors of Koigu (p118/406, p335, p118/137, p105, p819, p509).
Easy pattern but tough choosing colors. I have seen it done in other colorways and doubt you can go wrong with anything you select or how you sequence them. As usual with my Koigu items, the compliments just keep coming.
Years ago, I made this baby blanket for a new grandnephew. The pattern is from one of your books I was very pleased with the results as I have never done anything like this before.
My sister and I attended Vogue knitting NYC in january 2018 to celebrate her 60th. it was a very special trip for us as do don't have many occasions to travel and intensely spend time with yarns together.
At the banquet, i won your draw for the koigu sweater. i was thrilled, and when i returned to the table, because it was my sisters birthday, i gave her my prize. She was beyond thrilled.
I wanted to personally thank you for this door prize as it made our evening and our event.
Upon our return, she frantically knitted the prize because i told her that if she did not knit it by next jan. then i would take it back and knit it.
I have enclosed the photos of her with her sweater and wanted to assure you that we both were not familiar or had knitted with Koigu and now you have 2 more fans. she loved the yarn and its softness and durability are remarkable. to top it off you are canadian!
thank you thank you your prize made the 2 of us so happy- We both felt like winners!
I will be purchasing my koigu to make my sweater!
thank you for sponsoring events like vogue and for spending the yarn love!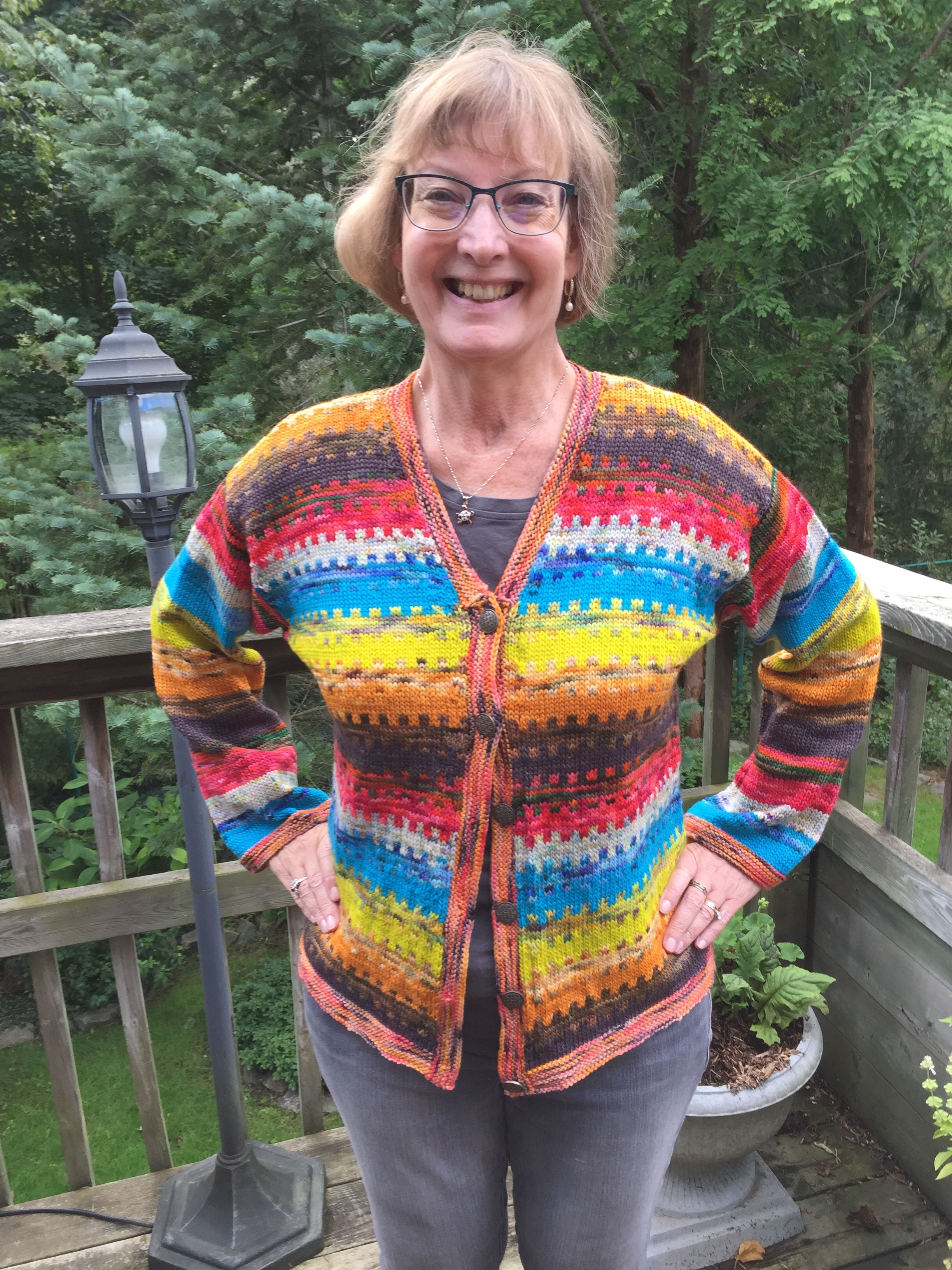 My cardigan that I did and my Welsh knitting friend wanted to knit also. I delivered Koigu Kersti to her in England.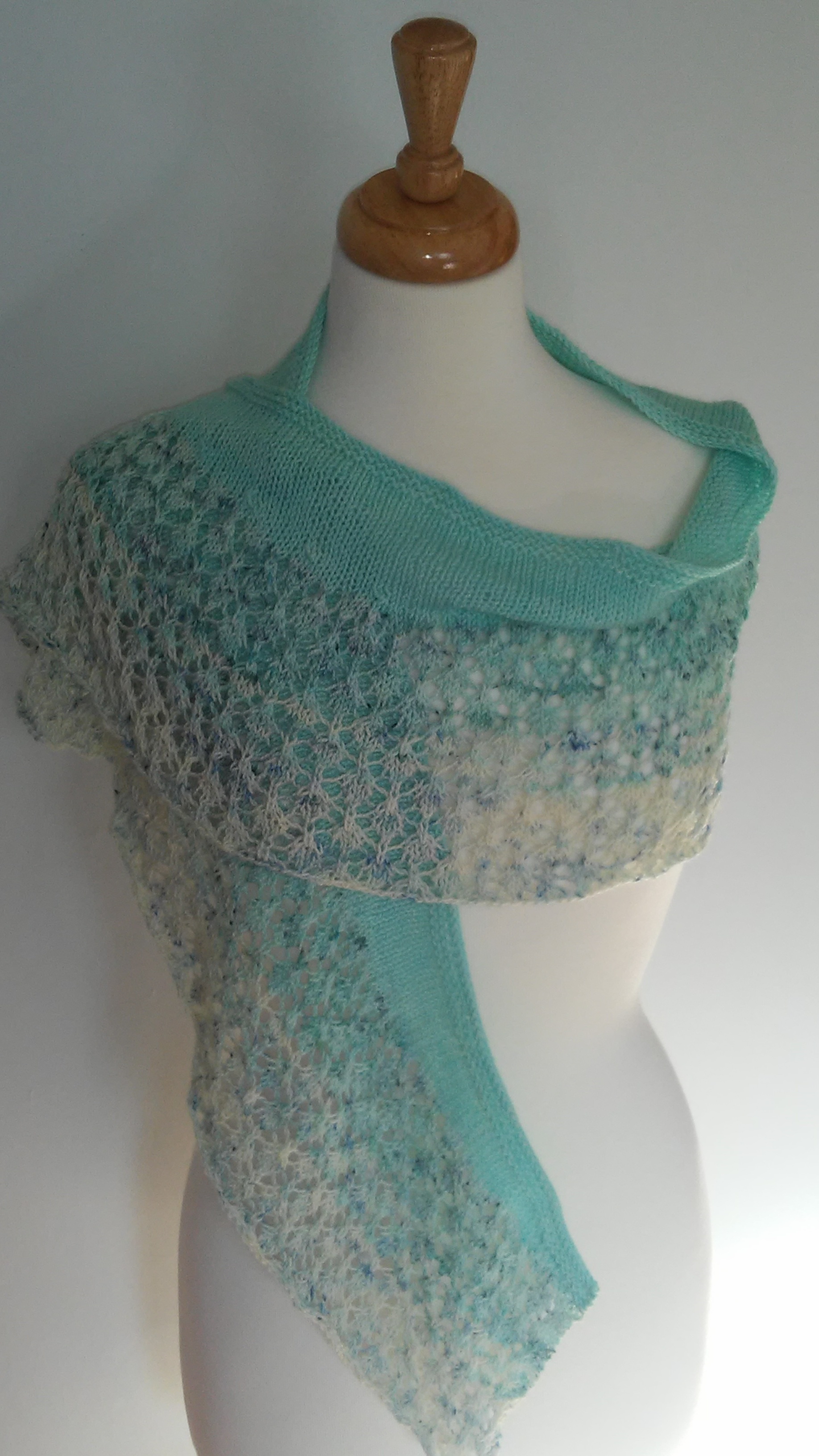 Roxann
Here are some pictures of the crochet shawl I created using your KPPPM (P315L572)and KPM (250165) during the World Cup matches- I started mid June and ended mid July.
I have included more specific details on Ravelry:
https://www.ravelry.com/projects/beadaddictroxy/grannys-planting-hostas-in-the-garden-shawl
This was the first time I had used Koigu yarn and I loved it! Ordinarily I tend to work with one skein or less of yarn to experiment with in both crochet and lucet braiding. I managed to acquire several skeins in complementary colours so I decided to use some for (another) crochet shawl for myself.
While watching the Soccer World Cup matches on television, I started "playing" with a design that evolved into a modification of the granny square double crochet triplets with doublets and an added chain length on one side to give a visual separation between the colours.
The inspiration for the shawl name, "Granny's Planting Hostas in the Garden", came about while I was taking photos of it outside on my patio. In the background of the shot, I noticed that the colours of the hostas in my small makeshift garden were a perfect match to those in this wrap. It seemed only natural to use the structural elements of the shawl and the photo shoot backdrop together for the name.
Nancy
Here is the "Wild Lupins" shawl I designed for 5 skeins I pulled from a mix bag of yarns that I bought at last year's tent sale. From the top down, the colours of KPPPM are: P151, P829D, P226, P915, and 0008. I used them all again in reverse order for the border, with a wider band of P151 at the very bottom. The colours in these Koigu yarns remind me of the fields of lupins I saw growing on the hills of New Zealand; I have knit a similar shawl in a solid red yarn that I call "Red Salvia"
Jan
"The photos are of a blanket woven in four lengths, two 25" wide, and two narrower, and mattress-stitched together, 85" x 95" "
**Winner
Janice
"This is Feather and Fan Open Jacket (KM9). Koigu Sparkle colorway 156.
I love this colourway and the sparkle too."
Betsy
"Here is another beautiful project using my favorite yarn.....Koigu. It is the Koigu Shawl, purchased as a kit. Colors used are 436, 100, and 734. Fun to wear and the compliments just keep coming"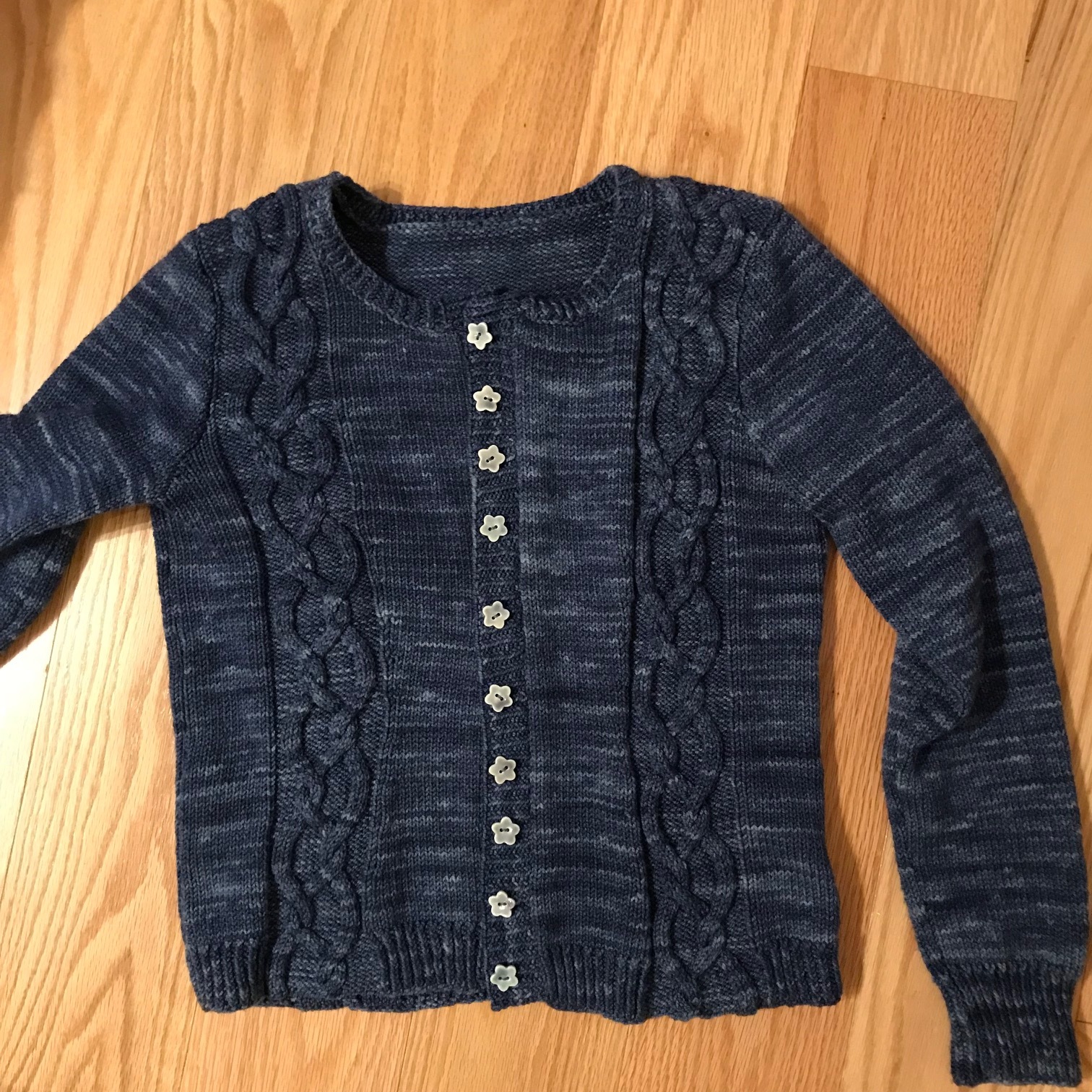 Second project ever made on my rigid heddle loom. I had great fun using Koigu KPPPM mini skeins. No pattern just used black for the warp and mini skeins for the weft. I just wove each color until it ran out and started the next. I love how different it looks woven than knit up. Koigu yarns are my favorite yarn on the planet!!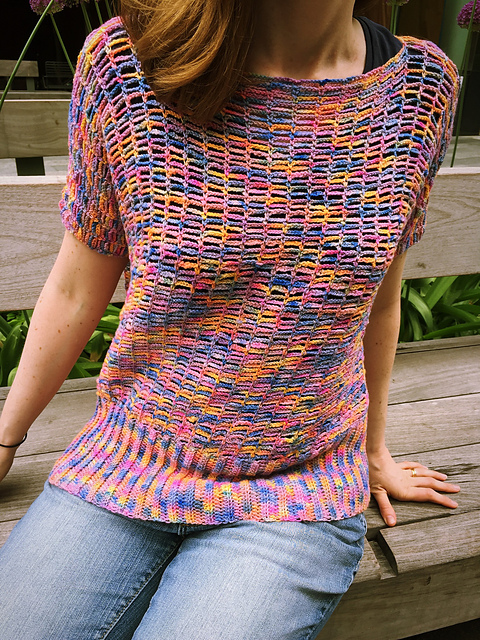 I made a crochet summer top with five skeins of Koigu KPPPM Color 143. The pattern is the Carolyn Top. Size 4.0 MM Hook.
Thanks for making such cool yarn!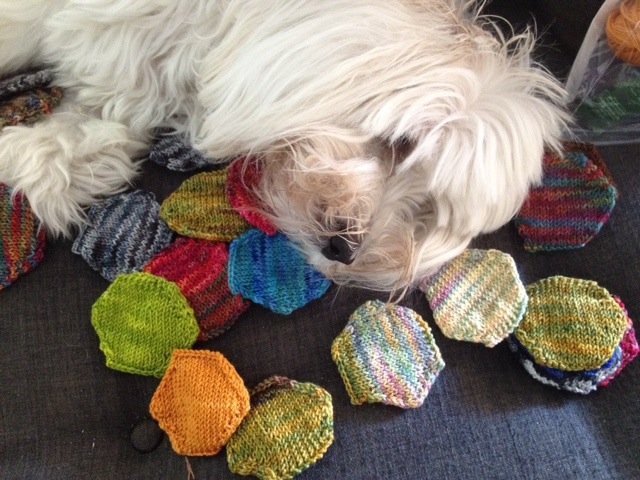 Finished this a couple of years ago as a way to use up all the leftover yarn from Koigu projects. The trouble is that I needed even more to finish so it took forever to collect all different small scraps. It weighs a ton, each hexagon is double sided and it is finally finished! Sorry I don't have a completed picture but I'm sending a few in-progress snaps. Thankfully before I gave up I found you had some small skeins of different colors aimed at needlepointers- it took many more purchases of those to get it all done.
My biggest 'helper' keeping track of how many hexagons we make. The original directions had each hex filled with a bit of fiberfill batting but I didn't like the puffy look so left it out. It is still so heavy that you nod off as soon as you pull it up to your chin! A fabulous take-along project for long plane rides, and staying awake at night! It is held together with six (!) different shades of black. And I combined a few color sections to add interesting flower shapes. About halfway done. It's finished version lives in MA.
"I have loved Koigu for years, since finding it in a Wisconsin yarn shop many years ago while on a business trip. This is the Nala Cardi by Regina Moessmer in color P335. Koigu and cables....what could be better?"
*** Winner
"This is my version of Vinyarsa by Shelley L Brander, I use Koigu yarns. learning to mix my colors😊"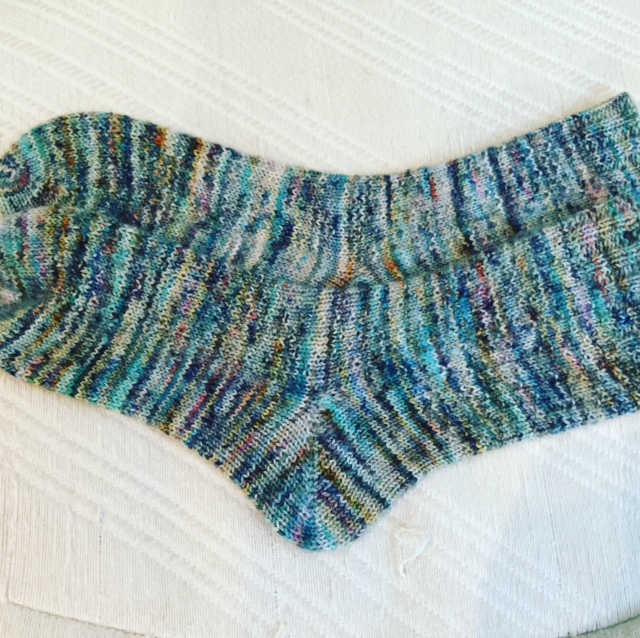 "I found this yarn at my local yarn store and loved the colours so much that last week I returned to get a sweaters amount. These socks are a basic sock pattern to showcase the beautiful yarn. To date it's my favorite combo. It's KPPPM —P454-0003.
I was so disappointed they had sold out so I bought another colour and knitted the Pavement sweater by Veera Valimaki...it's so comfortable and easy to care for! I will continue my quest for this yarn❤️"
"I was a member of the amazing October Vogue knitting retreat (the crazy one who bought 60 random skeins of anything with purple in it!). The week before the retreat I was diagnosed with cancer, but was not about to miss the event. I didn't say anything, because I didn't want to be a 'downer.' I tend to look for the proverbial silver lining, and I am creating an amazing wardrobe of "chemo caps." This is the first one I made (details on my Ravelry page). I know that having the power of Koigu yarn on my head will make every day better!"
***This months winner!
"My Pop Blanket made with koigu ❤️
Pattern from tincanknits"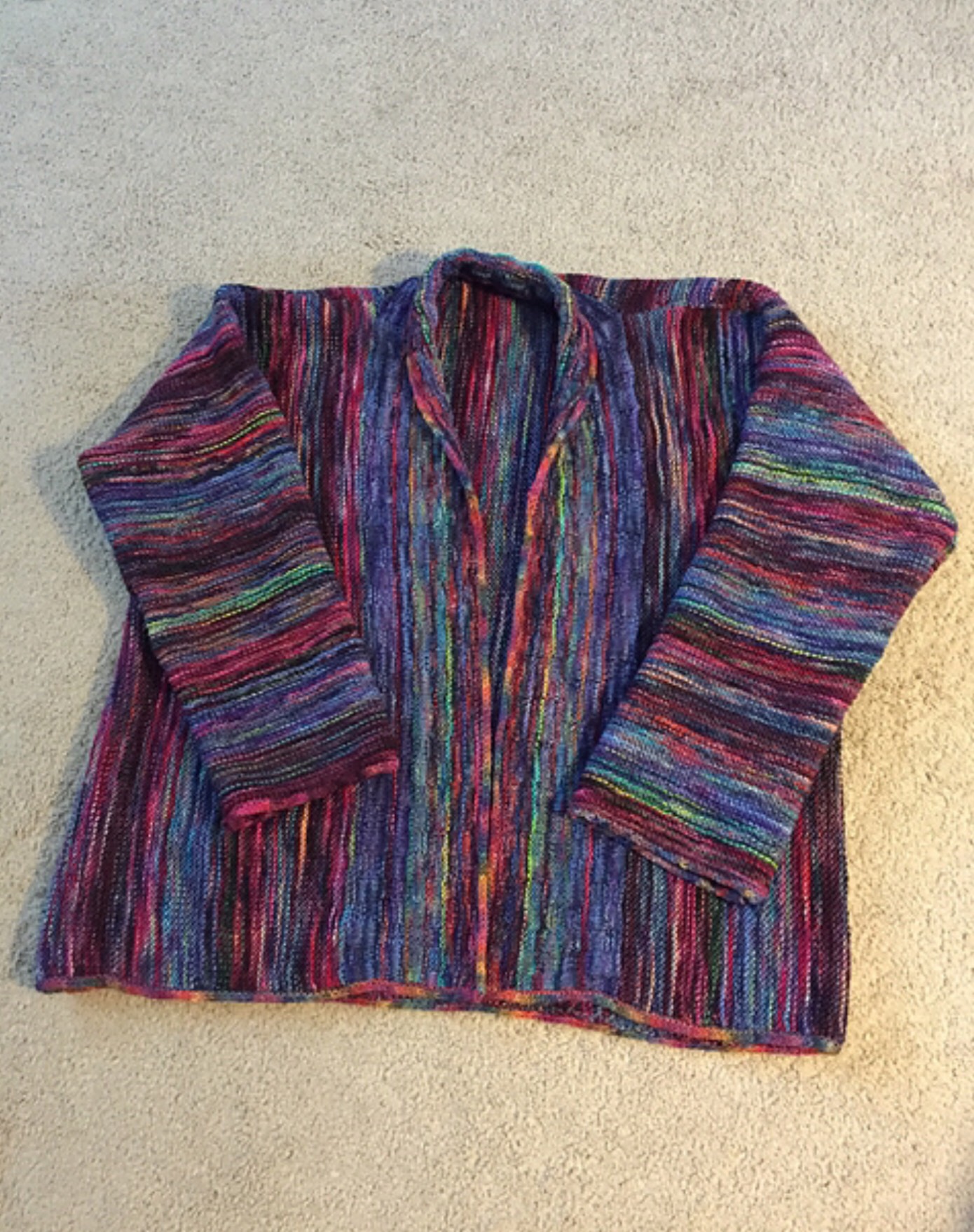 "I can't remember exactly how long I had been collecting skeins of KPPPM . I was teaching knitting at my local yarn store and would add a few skeins each week to my collection, waiting for the just right sweater to find me . Well , in searching Ravelry I happened upon the exact sweater for all of my delicious Koigu yarn ! It was Vertical Kaleidoscope Cardigan by Leslye Solomon. (Available on Ravelry) I used at least 15 skeins and loosely followed the pattern suggestions . I love my cardigan and wear it often!"
"My project turned out a bit bigger than the one in the book so I have decided to use it as a shawl
p.s - I did the double crochet edge for the finish :) "
"Here is the crescent shawl that I knit for a friend's birthday in March. The lace section was knit with two skeins of KPPPM # P719, and the stocking stitch, short row section used one skein of KPPPM # P536. Both yarns came from a mixed bag of skeins that I bought at the tent sale last summer. The stitch pattern reminds me of branches, and the colours remind me of spring, so I have named this design "Spring Branches.""
"Finished my Spindrift shawl in koigu !!
Love it"
***Grace was the lucky winner this month
Mitts Pattern and Yarn purchased at Marji's, New England Fiber Festival, November 2017
"My 'wave blanket' knit with an assortment of yummy KPPPM yarns (worked double) based upon the sweater pattern featured on the cover of Koigu magazine 2. I love working with Koigu yarns."
"I always have several projects going at the same time so I didn't want to work on this exclusively. Instead, I knitted one square a day for a year!"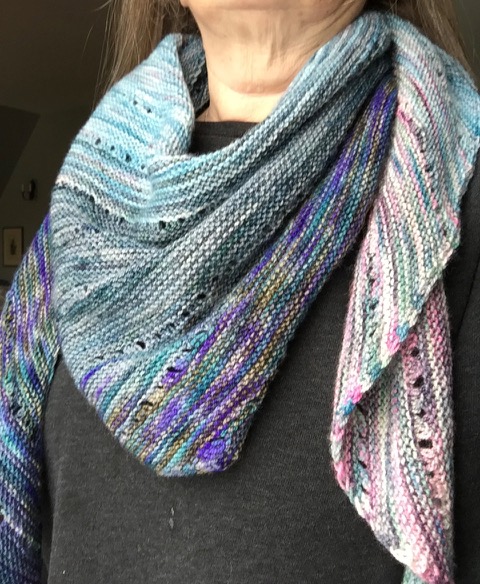 "This was a Free Your Fade by Andrea Mowry in 5 shades of KPPPM"
Love my Koigu gradient family cowl
"Eliza poncho ( wearable in two ways), which I knit with koigu kpppm. The original pattern can be found here https://www.ravelry.com/patterns/library/eliza-12 My husband keeps sending me yarn bouquets of kpppm from jimmy beans wool. Each has three skeins in a similar color. I used two bouquets for my poncho, and I supplemented with some one or two other skeins to help with the fade."
**Deb was the lucky winner this month
"This is my "Sea and Sky" crescent shawlette/scarf. It was made from KPM and KPPPM yarns I bought in mixed bags at the tent sale last August, colour numbers 1061, P743 (although the number on the label and the corresponding picture on your website don't really look alike), and P850.
I designed and knit this shawlette for the "February Blues" Arts and Crafts Exhibit hosted by the Arts Advisory Council at the L.E. Shore Memorial Gallery in Thornbury, Ontario.
None of the yarn stores I frequent carry Koigu yarns, so I was excited to be able to get to the tent sale last August. This is the first item I have knit with the yarn I bought there, and I am pleased to be able to share it with you via this Make IT Koigu project. I have thoroughly enjoyed playing with combinations of skeins from the three bags of yarn--and six individual skeins of colours I couldn't resist--and will share with you more of the designs I create as the year goes on.
"My project is a Chinook Scarf. I used 2 skeins of Koigu KPPPMP139 M17069 This pattern was perfect for the 2 skeins I received as a gift. I haven't used this yarn before but I can't wait to do another project with it.
The colors pooled and striped making a beautiful scarf. It has a soft draping appearance."
"Knit in Kpppm purchased at the first tent sale. It was beautiful to work with and the colour work gave its own comforting rhythm to the plain stocking stitch of the pattern. I receive compliments on the yarn as often as the garment whenever I wear it and I have been wearing it a lot."
From Toronto, ON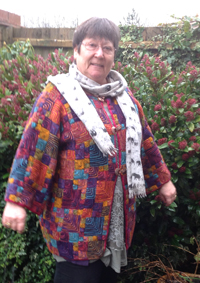 "I've finally managed to complete my oriental jacket. I love my jacket it's lovely and warm, my friends are coveting it."
"I think I might have been using Koigu from nearly the beginning. I bought the yarn purely for the colors, learned to knit socks so that I would have an excuse to continue stockpiling the yarn and eventually discovered I could weave it quicker. Here is the first sweater I knit for my granddaughter Ruby. She picked the colors out of my stash (which runs to several bins), and it is pure Koigu, of course. By the time it was finished, her favorite color had shifted from yellow to pink—thus pink buttons!"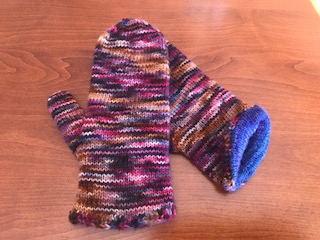 Koigu Kersti - Finished January 2018
Love knitting with Koigu - The colours and quality is amazing.
These mittens are getting lots of use this month!
From Waterloo, ON
Made this blanket and baby sweater for my beautiful grand daughter in koigu ❤️
Janice
Received the yarn for this project at the 2017 VKLIVE at the Koigu cocktail party!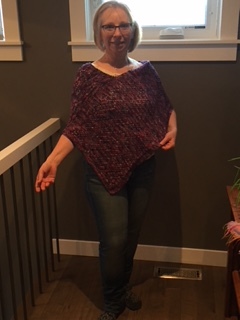 "Just finished a summer poncho. First time knitting lace pattern. Used Koigu Kersti no. 40123, used exactly 5 skeins. This is now my most favourite yarn! So happy it's Canadian yarn too! Drapes very well. Haven't washed yet."
Georgena was the lucky winner this month!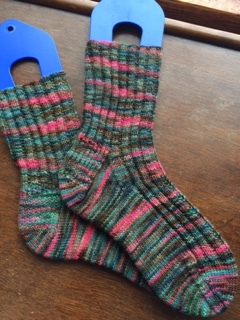 "Just finished a summer poncho. First time knitting lace pattern. Used Koigu Kersti no. 40123, used exactly 5 skeins. This is now my most favourite yarn! So happy it's Canadian yarn too! Drapes very well. Haven't washed yet."
From Verona, ON