Here is a first look at designers from our newest publication Vill.
Knitting Wonders aka Sierra, is based out of the beautiful Rocky Mountains in Colorado. She shares her passion for knitting and fiber arts below!
My passion for knitting began over two decades ago when three elderly ladies in a tiny local knitting shop taught me the basic techniques -- and ever since, I've been hooked! I have always found knitting to be a very therapeutic outlet for me throughout college, law school, and during my career as a lawyer. The soothing rhythm of working with soft, premium yarn and the *click* noise of the knitting needles made knitting an incredibly joyful and peaceful experience.
Sierra posts beautiful photographs of her craft projects onto her Instagram @knittingwonders, as well she has designed some beautiful cozy projects, many of which she sells on her website as finished goods. Looking for projects that aren't knit inspired, Sierra sells beautiful macrame pieces perfect for your home! Knitting Wonders designed the Lakewood scarf in Koigu Chelsea in our new publication vill!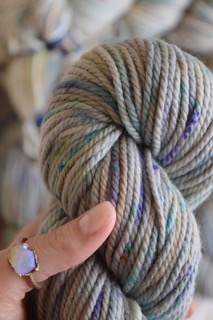 PS... Fellow yarn creator Amy Small at Knit Collage has created an amazing motivator group called finish it February on Facebook, to move you to finish all your stagnant projects. Learn More
PPS... Have you seen our Make it Koigu project share? Were developing a page where people can share their creations for the chance to win a prize each month, be inspired by others and get ideas for your next project!
- Kersti @ Koigu